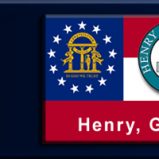 Henry County, Georgia
Comfortably South of Atlanta and home of Eagles Landing
Cities in Henry County include, Stockbridge, McDonough, Hampton, Locust Grove
Henry County Chamber of Commerce
www.henrycounty.com
Over 700 local businesses are members of the Chamber of Commerce. These businesses are vital in the success of the Shop Local, Shop Henry program.
Henry County Board of Commissioners
www.co.henry.ga.us
Find information on driver's license, business license, vehicle tag registration, property and taxes and information on all the departments that make up the Henry County government.
Henry County Schools
www.henry.k12.ga.us
The Henry County School system has over 50 schools. Find information on each school, demographics, board meetings, special events and more.
Henry County Tourism
www.visithenrycountygeorgia.com